Flash memories are used for electronic devices such as cell phones, smart phones, digital cameras and GPS.
Wave Technology Co., Ltd. designs, manufactures and sells device programmers for semiconductor memories, including flash memories.
Wave Technology's products are applied to major manufacturing companies as well as Device Programming Service Companies.
Our technology is utilized for various manufacturing sites on-the-spot.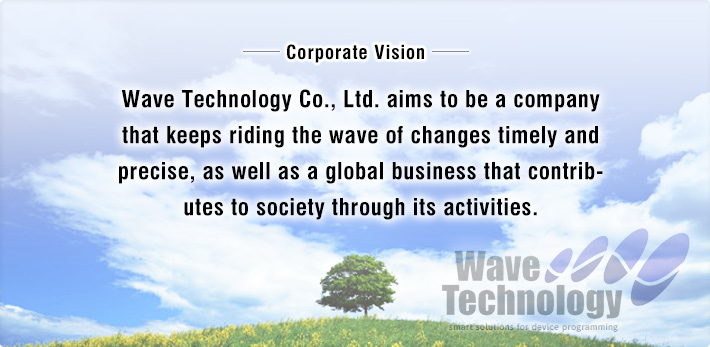 Company Overview
Registered Name
WaveTechnology Co.,Ltd.
Head Office
Kanda-Sudacho Bldg.9F,2-2-2 Kandasudacho, Chiyoda-Ku,Tokyo JAPAN 1010041
Contacts
TEL +81-3-6825-1306 / FAX +81-3-6825-1307
Founded
November 21,1996
Capital
JPY 44,000,000
Settlement
March
President
Shuichi Tanikawa
Banks
Resona Bank, Limited.
The Bank of Tokyo-Mitsubishi UFJ, Ltd
Business
Design, manufacture, sales and support service of device programmers and peripherals
Headquarter
Headquarter factory/Engineering/Sales
Kanda-Sudacho Bldg.9F,2-2-2 Kandasudacho,Chiyoda-Ku,Tokyo JAPAN 1010041
TEL +81-3-6825-1306 / FAX +81-3-6825-1307
Major Client Companies

Sharp Corporation / Panasonic Corporation /

Panasonic Mobile Communications Co., Ltd. / Yamaha Corporation /

Mitsubishi Electric Corporation / Seiko Epson Corporation / Hitachi, Ltd. /

NEXTY ELECTRONICS CORPORATION / TAKUMI SHOJI CO., LTD. / and more
Access Map
Access to Our Headquarter Office
Approximately 3 minutes'walk from the Iwamotocho train station of Metropolitan Subway.
(From the exit A1 of the station,go along the Yasukuni-dori Ave. toward Shinjuku.)
Corporate History
| | |
| --- | --- |
| 1996.11 | Wave Technology Ltd. Founded in Kamiosaki, Shinagawa-ku, Tokyo, Japan |
| 1997.11 | Y8000 Programming System launched |
| 1998.3 | Y1000-8 Programming System launched |
| 1998.8 | Headquarter and factory relocated to Nishihara, Shibuya-ku, Tokyo |
| 1999.8 | Capital investment increased to JPY 20,000,000 |
| 2000.4 | Y501 Programming System launched |
| 2000.11 | Business name changed to Wave Technology Co., Ltd. |
| 2000.12 | Sales, engineering, and factory relocated to Honcho, Shibuya-ku, Tokyo |
| 2001.7 | Y2000 Programming System launched |
| 2002.2 | Y1000-A Programming System launched |
| 2003.7 | Capital investment increased to JPY 44,000,000 |
| 2005.5 | Y1100 Programming System launched |
| 2006.1 | Y3000 Programming System launched |
| 2007.8 | Sales, engineering, and factory relocated to Hatagaya, Shibuya-ku, Tokyo |
| 2008.8 | "KES Environmental Management Standard Step 1" registered |
| 2009.7 | Sales, engineering, and factory relocated to Nishihara, Shibuya-ku, Tokyo |
| 2013.4 | K5000 Programming System launched |
| 2013.11 | Automatic Programming System WH-582 launched |
| 2022.9 | Sales, engineering, and factory relocated to Kandasudacho,Chiyoda-ku,Tokyo |