Socket Adapters for Y3000
Module Adapter

Unlike DIP conversion adapter, its structure contributes to the prevention from poor attachment with the main unit of writer.

Integrated Case

Prevention from shorts on the circuit board of adapter caused by dust
Highly reliable socket adapter

Sharable with All Types of Y3000

Also targeting at PH series
Socket Adapters for K5000
Integrated Case/Module Structure

Highly reliable socket adapter whose structure is inherited from that for Y3000.

A set of the adapter and its base attached to the main unit

Also attachable to WH-582 without any modification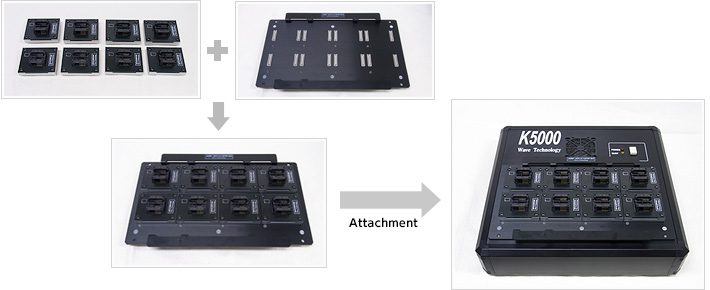 Sockets adapters for each device/package are available.
We use sockets confirmed by the socket/device manufacturers.
Please refer to the page "Device Support Search" for the supported
products and refer to the page "Device Support System" for the unsupported products.
※Sockets are consumables.
 The life of sockets may be considerably impacted when its attachment part with the device deteriorates,
 affected by poor usage environment and/or handling
 Poor contact may cause a decrease in product yield.
 We recommend you a periodical replacement of socket adapter.
 Wave Technology does not provide replace service of sockets alone.