Outline

WH-582 is the new model of the fully automated programming system equipped with 2 units of manual programmer K5000, up to 16 sockets available for writing.
The auto handler, which has a capacity of double-headed transmission and self correcting by cameras, enables high quality transmission.
WH-382 also targets to the automated handlers equipped with manual programmer Y3000-8.
Features/Specification
Programmer
2 units K5000
Maximum capacity - 16 socket adapters
※For more information about the programmer specification, please refer to the page "Manual Programmer K5000".
Target Package Type
SOP,TSOP,BGA,QFP,QFN etc.
3×3mm~24×24mm
Target Socket Type
Open Top
Target Tray Type
JEDEC
Input x 20, Output x 20, Failure x 1
Device Handling
Vacuum Adsorption 2-heads
Automated coordinate correction for socket and device using 2 cameras set in the top and bottom
Pressure
0.5Mpa 60L/min
Power Supply
Three-phase AC200V 50/60Hz
Dimension/Weight
(W)1450x(D)1250x(H)1650mm
※not including projections
Approximately730Kg
Operating Temperature Range
10~30℃
Environment
RoHS compliant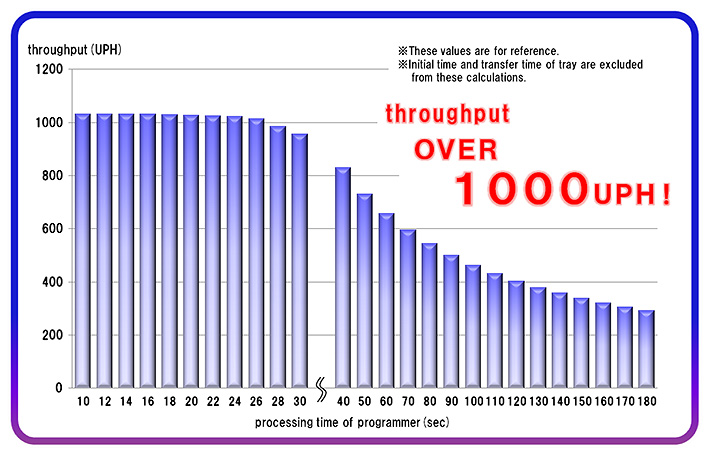 Download WH-582 catalog from "WH-582 catalog download"
About programmer K5000, please refer to the page "Manual Programmer K5000".
"WH-382", in which 2 units of Y3000-8 installed, is also available in the lineup.
The number of equipped programmer for automated handler may be changed upon your request.
Please refer to the page"Inquiry Form"for inquiries on WH-582 and WH-382.