Outline

K5000 is the GANG programmer with 8 sockets capable of high speed programming on the highest level in the industry. It is installed approximately 240Gbits writer buffer memory as a standard.
It is the manual device programmer so effective for flash memories including NOR and NAND.
Features
Concurrent Programming for up to 8 devices
High Speed Processing
・Fastest processing speed in close proximity of the specification
・Time saving for master data transfer by USB2.0

Supports High-capacity Memory
Built-in Buffer Memory:Approximately 240Gbits
Expandable option capable to more than 1Tbits in future
Easy-to-use Operation Software
Further improvement in GUI of the popular Y3000 to achieve better operability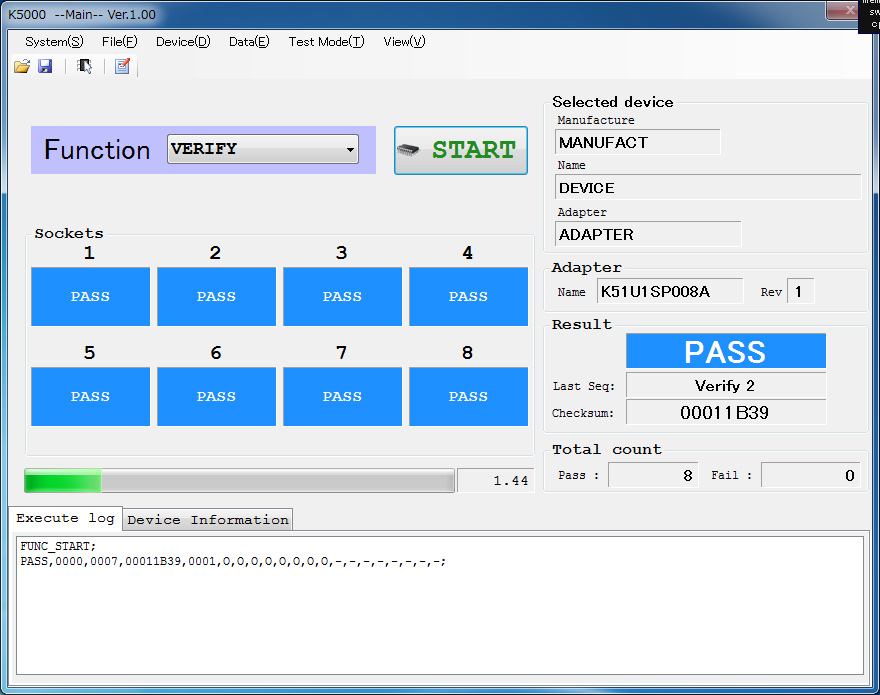 Multi-functionality
Built-in test mode capable of repeat test and etc.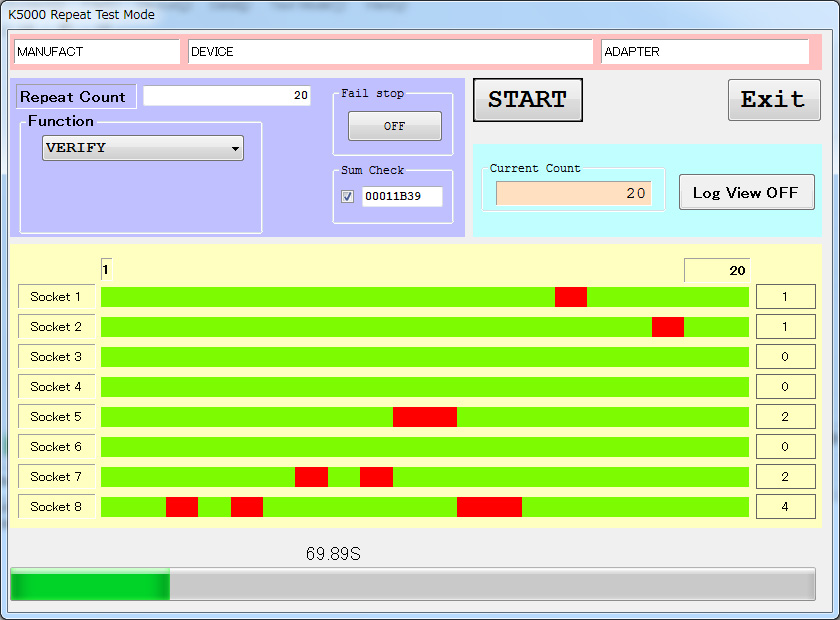 Specifications
Number of simultaneous writing
up to 8 units
Buffer Memory
standard 240Gbits
(expandable option in the future)
Target Device
NOR-Flash(Parallel, Serial), NAND-Flash
(Targeting at eMMC, Flash mounted microcontrollers as required in future)
Data Format
Binary data
(INTEL-HEX, Motorola_S:Conversion software available)
PC Environment
WindowsXP, Windows7(32bit)
Device Features
READ/BLANK/PROGRAM/VERIFY/ERASE B.P.V/E.B.P.V
(Custom algorithm available upon request)
External Interface
USB2.0
Power-Supply
AC85~265V
Dimension/Weight
(W)330×(D)310×(H)75mm 3.2㎏
※Excluding fan and protrusions
※Excluding adapter base and socket adapters
Operating Temperature Range
10~35℃
Environment
RoHS compliant
Download K5000 catalog from "K5000 catalog download"
Please refer to the page "Socket Adapter" for socket adapters installed in the main unit of programmer.
Please refer to the page "Device Support Search" for the target devices of K5000.
Please refer to the page "Device Support System" for the initial device support.
WH-582 is the automated handler equipped with K5000.Please refer to the page "WH-582"
Please refer to the page "Inquiry Formfor inquiries on K5000.